With Google Glass ready to ship to participants of Google's Explorer Program, the search giant has finally revealed the specs for the head-mounted display that's captured the attention of gadget aficionados for well over a year now. Google late last night published the specs on its Google Glass support pages.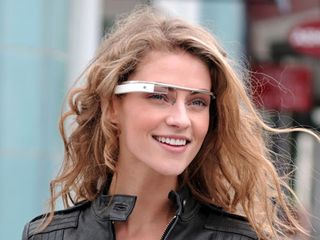 According to Google's list, Glass will feature a 5-megapixel camera capable of shooting video at 720p, audio that utilizes a bone conduction transducer, 16 GB flash (of which 12 GB usable memory and synced with Google cloud storage), micro USB (Google Glass will ship with both a cable and charger), WiFi 802.11b/g, and Bluetooth.
Adjustable nosepads and durable frame fits any face.
Display
High resolution display is the equivalent of a 25 inch high definition screen from eight feet away.
Camera
Audio
Bone Conduction Transducer
Connectivity
Storage
12 GB of usable memory, synced with Google cloud storage. 16 GB Flash total.
Battery
One full day of typical use. Some features, like Hangouts and video recording, are more battery intensive.
Charger
Included Micro USB cable and charger.
While there are thousands of Micro USB chargers out there, Glass is designed and tested with the included charger in mind. Use it and preserve long and prosperous Glass use.
Compatibility
Any Bluetooth-capable phone.
Google Glass won't be commercially available until the end of this year. However, Google opened up a special Explorer program in late February for those that couldn't wait to get their hands on the device. The company said last week that Google Glass Explorer Edition would be shipping in the next month, and yesterday confirmed that the first units were rolling off the production line and ready for shipment.
Right now, Google Glass is priced at $1,500. When it launches properly at the end of this year, it will apparently be significantly cheaper (though Google has not talked about pricing just yet).