We see bucket loads of products at CES; some products are old, some are new, and some are shameless rehashes of old products dressed up as new products. However, each year there are a special few that really wow us. Among them is the Fujifilm X-Pro 1, Fujifilm's new interchangable lens camera, which has won one of our prestigious 'Best of CES' awards.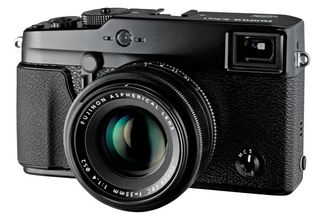 The X-Pro 1 goes beyond the compact system trend started by Olympus and Sony and into a legitimate new camera category. We've decided to give the X-Pro 1 one of our first Best of CES awards for its style, intuitive design, and its ability to fulfill a need expressed by photography enthusiasts and pro-sumers who just don't want to carry an entire DSLR camera bag.
The X-Pro 1 looks like a serious 35mm camera from yesteryear. It has a magnesium alloy chassis, die-cast aluminum at the top and bottom, and a distressed leather look around the body. Most controls—like shutter speed, exposure compensation, and aperture and manual focus rings-- are physical knobs and gizmos on the camera and lens itself. This certainly adds to the retro charm but it's actually quite functional and preferred by most serious photographers.
We especially like the inclusion of the hybrid optical viewfinder—it changes the field of view depending on which lens is attached to the camera (three lenses have been announced by Fujifilm so far: an 18mm f/2.0, a 35mm f/1.4, and a 60mm f/2.4). It switches between electronic and optical, though there is also an LCD screen on the back of the camera with 1.4 million pixels.
Fujifilm built a new 16 megapixel sensor for this camera that arranges color filters in a less inaccurate and compromised fashion, and this makes the images from this camera especially sharp, according to the company. And, like any camera designed for users that take themselves halfway seriously, this one shoots RAW and offers 1080p video recording.
An official price has not been set by Fujifilm but most estimates put it at under $2,000 without lenses.