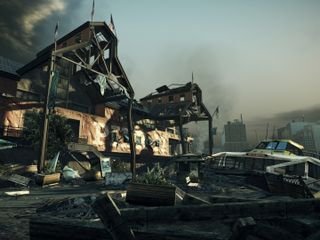 Just days after EA launched the multiplayer demo of Crysis 2 on the PlayStation Network, the publisher is pulling the game due to technical issues and is likely not to be bringing it back.
For some, the PlayStation 3 demo of Crytek's long-awaited sequel to Crysis was the only way to get an early taste of the game, especially for those who don't have the PC hardware to run the game at an acceptable framerate, and who refuse to pay a subscription fee for an Xbox Live Gold membership. The PS3 demo doesn't require a PlayStation Plus membership, making it easily accessible for sampling.
After its launch, the demo came under fire with accusations that it was inferior to the Xbox 360 version; a "gulf in quality" reportedly existed between the two. Crysis 2 executive producer Nathan Camarillo disagreed, saying that there was no meaningful difference between them. He even added that the Xbox 360 and PS3 versions were a good match for the PC demo. The Official PlayStation 3 Magazine agreed with Camarillo, saying that the negative previews may have been based on old, unoptimized press preview code.
But now the PS3 demo is going down in flames, pulled from the PlayStation Network by EA as of Friday. "Though many gamers have had a great experience playing the demo, we are aware that others have been experiencing server connection delays," EA said in a vague-yet-official statement. "We've identified the root cause and have decided to close the PS3 demo in the next 24 hours to ensure all issues are resolved when the game launches next week. Our priority is to ensure that the final product is flawless at launch."
Currently there's no indication that the Crysis 2 demo will return-- at least, not until after the full version ships next week. PC gamers who still haven't checked out the Crysis 2 multiplayer demo can download the file directly from Tom's Guide by heading here.