Resident Evil Village seems to be taking some cues from Resident Evil 7, and taking Capcom's iconic survival franchise into a bold new direction. 
The eighth core installment throws you into a gothic winter town. So you can expect to see werewolves, zombies, vampires, and what looks like a shocking villainous turn for one of Resident Evil's most beloved characters.
The game is set to arrive on PC, PS5, Xbox Series X/S, and even the ageing PS4 and Xbox One consoles. It also looks to be one of the most ambitious entries in one of gaming's most long-lived franchises. Here's everything we know about Resident Evil Village so far, including the game's release date, trailers, PC system requirements, and more.
Latest Resident Evil Village news
Resident Evil Village release date 
Resident Evil 8 was announced last June, and while more information was initially supposed to arrive last August we didn't hear anything new until January 2021. But the good news is that the release date is confirmed for May 7, on all platforms. That includes PS5, PS4, PC, box One, and Xbox Series X/S.
If you can't wait that long, then PS5 owners can already download a free demo called "The Maiden". That'll hit other platforms at some point before launch, while a second free gameplay-focused demo is also rumored to be dropping very soon.
Resident Evil Village trailer 
The debut Resident Evil Village trailer has a whole lot going on in it, revealing the return of Ethan Winters, a creepy new gothic village, vampires, werewolves and a shocking turn for Chris Redfield. Check it out below: 
A second trailer was also released during the hour-long Resident Evil showcase in January. It features spooky flashbacks, a scarecrow, underground zombies, and plenty more of the internet's new favorite vampire, Lady Dimitrescu
A second Resident Evil showcase is planned for April 15 at 3 p.m. PT, which will almost certainly give us another substantial look at the game in action. It's also believed that a gameplay demo will drop during this live stream, so it'll definitely be worth tuning in.
Brace yourselves for the next Resident Evil Showcase which goes live on April 15th at 3 PM PDT / 11 PM BST! Once again hosted by Brittney Brombacher (@BlondeNerd), watch the teaser below for more info, and join the Resident Evil Re:Verse Open Beta Test while you wait! pic.twitter.com/ZFNhSfztRMApril 8, 2021
Is Resident Evil Village coming to PS4? 
Yes. While Resident Evil Village was initially slated for PS5, Xbox Series X/S and PC, it's been confirmed that it will also be arriving on PS4 and Xbox One on May 7.
Resident Evil Village PC system requirements
Capcom revealed Resident Evil: Village's PC system requirements on the game's Steam page, with further requirements for ray tracing support on the Japanese Capcom website.
The good news is that the game looks pretty scalable on lower to mid-range PCs — much like Resident Evil 7 and the recent remakes of Resident Evil 2 and Resident Evil 3.
Minimum requirements (1080p)
OS: Windows 10 (64-bit)
CPU: Intel Core i5-7500 / AMD Ryzen 3 1200
RAM: 8GB
GPU: Nvidia GeForce GTX 1050 Ti / AMD Radeon RX 560
DirectX: Version 12
Recommended requirements (1080p)
OS: Windows 10 (64-bit)
CPU: Intel Core i7-8700 / AMD Ryzen 5 3600
RAM: 16GB
GPU: Nvidia GeForce GTX 1070 / AMD Radeon RX 5700
DirectX: Version 12
Ray tracing recommended requirements (4K)
OS: Windows 10 (64-bit)
CPU: Intel Core i7-8700 / AMD Ryzen 5 3600
RAM: 16GB
GPU: Nvidia GeForce RTX 2070 (4K/45fps) / Nvidia GeForce RTX 3070 (4K/60fps) / AMD Radeon RX 6700 XT (4K/45fps) / AMD Radeon RX 6800 (4K/45fps) / AMD Radeon RX 6900 XT (4K/60fps)
DirectX: Version 12
Resident Evil Village cast 
According to the game's official synopsis, we already know that Resident Evil 7 protagonist Ethan Winters (Todd Soley), his wife Mia (Katie O'Hagan), and longtime RE mainstay Chris Redfield (David Vaughn) are all returning for Village. The game's debut trailer teases many new characters we don't know much about yet, but some recent leaks and rumors give us an idea of what to expect.
Citing people who have allegedly played a special playtest for Village, Biohazard Declassified reports that the witch-like woman we see in the trailer is named Olga, and features in one of the game's boss fights. The trailer also shows many new villagers that will likely play a key role in the story, so we should know more about them soon.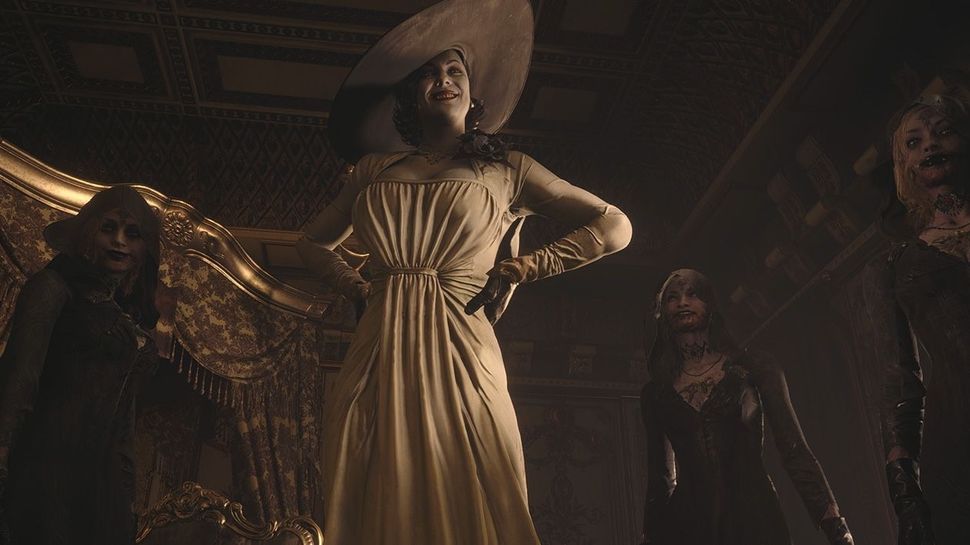 Finally the internet has become enamoured with Lady Dimitrescu, matriarch of Castle Dimitrescu who also happens to be 9'6" and a vampire. She's the main antagonist in The Maiden demo, and is set to feature in the final game. 
Resident Evil Village story 
Spoilers for Resident Evil 7 follow. 
Village is set several years after Resident Evil 7. That game saw Ethan Winters and his wife Mia escape a monster-infested Louisiana home after being tormented by the Baker family, who themselves were under the control of the deadly bioweapon named Eveline. Despite finding a peaceful life in a new town, things are suddenly thrust into chaos when longtime protagonist Chris Redfield shows up and forces Ethan into a "new and twisted nightmare in search of answers."
Despite being the one who rescued Ethan at the end of Resident Evil 7, Chris is seen shooting Mia in the Village trailer. There's very likely more to this scene than meets the eye, but it appears that Capcom is teasing some kind of villainous turn for one of the series' most enduring stars. Resident Evil 7 revealed that Chris has been working for a newly reformed Umbrella Corporation, and it's possible that his new role could be more sinister than it seemed on the surface. 
The game is rumored to be the second chapter in a new trilogy that will see the numbered iterations with their overarching narrative replaced with self-contained stories. Resident Evil Village will reportedly bridge that gap, with Ethan's story coming to a close in Resident Evil 9, and Capcom scrapping numbered titles after that point. This move would give the developer more freedom to delve into the universe in standalone stories that don't necessarily have to be part of the larger picture.    
Resident Evil Village locations
In a recent interview with IGN, game director Morimasa Sato gave us a clear indication of what locations we'll be exploring in Resident Evil Village by revealing the game's map. 
No prizes for guessing that a spooky village is one of the game's chief locales, but other prime environments players will be tasked with creeping timidly through include Castle Dimitrescu, Heisenberg's Factory, and Moureau's Reservoir. 
Alongside these standout locations will be several smaller places to visit including a windmill, a stronghold, a bridge, and something called the "ceremony site" which certainly has us nervous already. 
The game's setting will have a very distinctive wintery feel according to Sato, and has taken lots of inspiration from real-life Northern European villages. It all sounds deliciously scary to us. 
Resident Evil Village gameplay 
Resident Evil Village will see a return to the first-person gameplay that was first introduced in Resident Evil 7. If it's anything like the previous core installment in the series, Village will likely contain a healthy mix of combat, exploration and puzzle solving. 
The trailer teases some interesting new enemy types, including what look like werewolves and vampires. We also see a giant enemy leap towards the player with an axe, reminiscent of the executioner in Resident Evil 5. The game's inventory screen looks like a hybrid of the recent Resident Evil releases and the more expansive arsenal of Resident Evil 7, with a myriad of blocks you can use to organize your weapons, ammo and healing items with. 
According to the alleged playtest info reported on by Biohazard Declassified, some enemies in the game carry weapons such as swords and spears, and some will grab and bite like they do in this year's Resident Evil 3 remake. Weapons may include a handgun (like the one we see in the trailer), a shotgun and a knife.
Upgrading your character and equipment has always been crucial to your survival in past Resident Evil titles, and that will again be the case in Resident Evil Village. GameInformer has exclusively revealed how the upgrade system will work in a new video. 
Hunting local wildlife will be a big part of the game, but be careful some of the creatures around the place will fight back. Trading strange currency for upgrades makes it return as does the merchant, which feels very inspired by Resident Evil 4 to us. 
Will Resident Evil Village have VR? 
One of Resident Evil 7's standout features was PlayStation VR support on PS4, which made the immersive first-person horror that much more terrifying. There's no word yet on whether Village will also have VR support. We do know that the PS5 will support the existing VR headset, on top of the myriad of VR headset options for folks playing on PC.